Free painting workshops at Qanat Al Qasba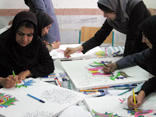 Free painting workshops at Qanat Al Qasba by renowned Iranian Artists, Workshops will feature different media of painting as part of the "Iranian Art Festival"
Free painting workshops at Qanat Al Qasba
Enlarge
As part of the ongoing "Iranian Art Festival", Qanat Al Qasba, Sharjah's premier cultural and entertainment destination, has organised an exclusive three day painting workshops by top Iranian artists starting May 28. The workshops will begin at 10am and end at noon daily until May 30 at Marya Al Qanat at located within the QAQ premises.
Conducted by Gizella Varga Sinai and Sharhzad Ossouli, who will use acrylic, watercolours and other materials to bring their art alive, the workshop is designed for the beginner as well as for the semi-professional artists.
Sinai, who has had close to three decades of teaching experience and has organised similar workshops in Iran and abroad since 2003, has a passion for teaching art. "After long years of teaching art and having exhibitions in many countries as a painter, I have now reached a different method of teaching art – through workshops. This is a new challenge for me, and it is amazing how many lives you can touch during a short span of time," says Sinai.
"Participation in workshops have often opened doors to art as profession to some, while it has lent others a mode of relaxation, self realisation and self confidence," she adds. Born in Hungary in 1944, Sinai studied art education at the "Akademie for Angewandte Kunst" in Vienna, Austria, and repatriated to Iran in 1967. A member of the Society of Iranian Painters and Dena Group, for Sinai, art is a way of life.
Tehran born Ossouli received her Diploma in painting from the Tehran School of Art, Tehran, and her B.A. in Painting from Faculty of Decorative Arts at the Tehran University. Having exhibited her works in seven individual and more than 70 group exhibitions in Iran and abroad, her mode of teaching would no doubt be novel and easy to follow by participants at the workshops.
The Iranian Art Festival, which opened to the public on May 10, also includes some breathtaking works of painters, photographers and sculptures exhibited at Maraya Al Qanat. The artists, who are part of the DENA group, which aims at introducing Iranian women artists to Iran and abroad as professionals with independent outlooks, include Arya Eghbal, Raana Farnoud, Farah Ossouli, Gigella Varga Sinai, Maryam Shirinlou, Massoumeh Mozaffari, Mitra Kavian, Shahrzad Ossouli, Naghmeh Ghassemlou, Azli Zare and Yasmin Sinia.
During the course of the festival, QAQ brought to the public some classic short films by award winning directors and the best of Persian theatre as well theatrical workshops. The art festival concludes on May 30.
More info: http://www.qaq.ae/press_article.aspx?id=214